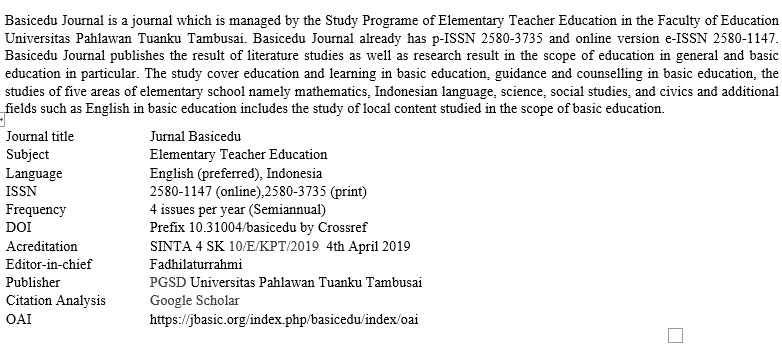 Announcements
Call For Paper Vol 5 No 1 Tahun 2021

The Editorial Team of Jurnal Basicedu  invites you to submit your paper for Vol. 5 No. 1, (2021).
Terbit InPres November 2020
Posted: 2020-10-05
More...

Pemberitahuan Hasil Akreditasi Jurnal Basicedu Tahun 2020

Sehubungan dengan telah keluarnya pemberitahuan dari Deputi Bidang Penguatan Riset dan Pengembangan, maka kami beritahukan bahwa Jurnal basicedu telah naik Ke Peringkat SINTA 3 mulai Vol 4 No 2 Tahun 2020.
Posted: 2020-09-16
More...
Vol 5, No 1 (2021): In Press
Table of Contents